Don't Miss Your Shot! – Chicago Urban League & TCA Health Vaccine Drive
July 29, 2021
2:00 pm - 5:00 pm
Chicago Urban League
4510 S. Michigan Ave.
Chicago, IL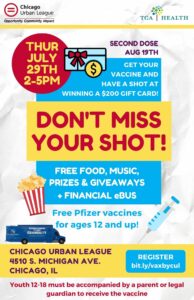 The Chicago Urban League is partnering with TCA Health to offer free COVID-19 vaccines to individuals ages 12 and up. Because we believe "immunity creates unity in our community," each person who gets vaccinated will receive:
A $25 gift card
One raffle ticket to be entered into a drawing for a $200 grocery gift card (drawing will take place at 4:45 p.m.)
One free meal from our on-site food truck
A grab bag of school supplies and personal protective equipment
TCA Health will administer the Pfizer vaccine. Youth ages 18 and under must be accompanied by a parent or legal guardian to be vaccinated. Second-dose vaccine appointments will be scheduled for August 19.
Not quite ready to commit to be vaccinated? Stop by anyway and enjoy a free meal and refreshments (while supplies last), and we will answer your questions about the vaccine.
Plus, the Fifth Third eBus will be onsite to provide information about how you can improve your credit score!
There are a limited number of vaccination slots available, and prizes and giveaways will be provided on a first-come, first-served basis.
Register today to get vaccinated! Don't Miss Your Shot!
For more COVID-19 information and resources designed with the Black community in mind, visit our Don't Miss Your Shot! campaign page.